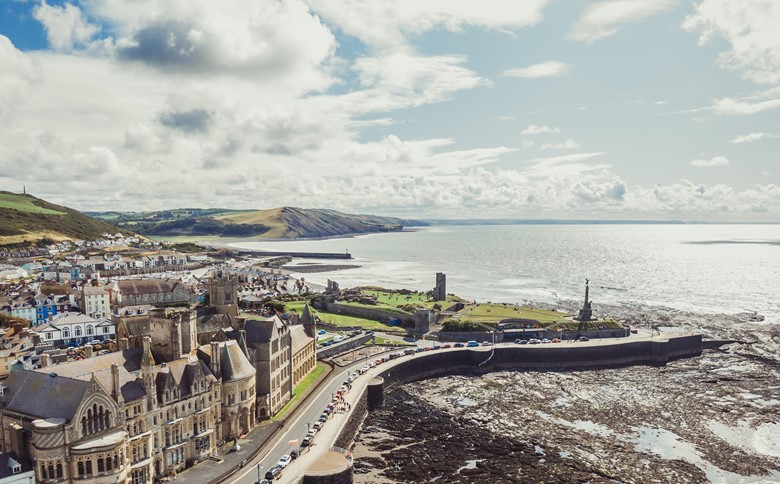 Aberystwyth - Georgian seaside charm
The Aberystwyth seafront and streets still retains much of their Georgian and Victorian character, with bow windows, colonnaded doorways and elegant proportions, whilst there are street names that suggest that the town is even older, which indeed it is.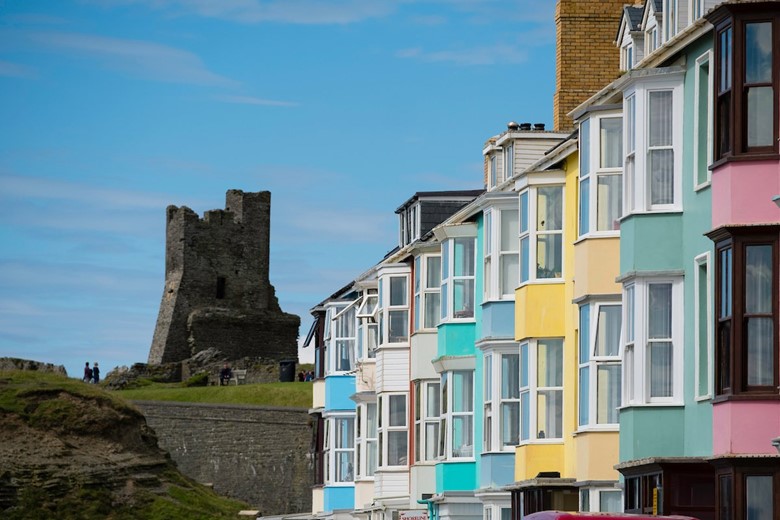 To see where the earliest inhabitants of Aberystwyth lived, visit Pendinas hillfort, just to the south of today's harbour. It overlooks the town and most of Cardigan Bay. Then explore the ruins of Aberystwyth's medieval castle - you'll soon realise that it's much bigger than it first appears, and very well located for controlling the coast. Great Darkgate Street is Aberystwyth's main commercial street; there's also a Northgate Street and Eastgate which mark the boundary of the town that grew around the 12th century castle.  Baker, Market and Vulcan Streets, Corporation Street and Gray's Inn suggest a busy commercial centre which has developed over the centuries, whilst Bath Street, Pier Street and Chalybeate Street hint at more leisurely pursuits of a healthy holiday resort.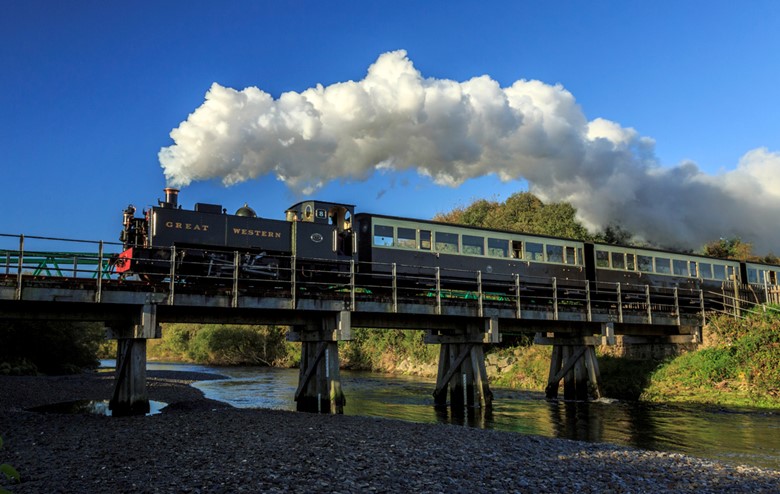 Authorised by an 1897 Act of Parliament and opened in 1902, the Vale of Rheidol railway's locomotives and carriages, some of which are still in use today on the line, were built by the Great Western Railway.  A trip inland on the narrow gauge, steam railway is the best ways to see the spectacular valley landscape and waterfalls of the Rheidol valley between Aberystwyth and Devil's Bridge. There are special excursions too, with music, food and themed trips for Christmas and Halloween.
On the same day that the railway station opened, so did Aberystwyth's Royal Pier  - the first in Wales. It was 800 feet long (approximately 248m) but it was damaged by severe storms the following year. The promenade and town developed, complete with new hotels, assembly rooms, concert hall, theatre, bandstand and saltwater bathing pools.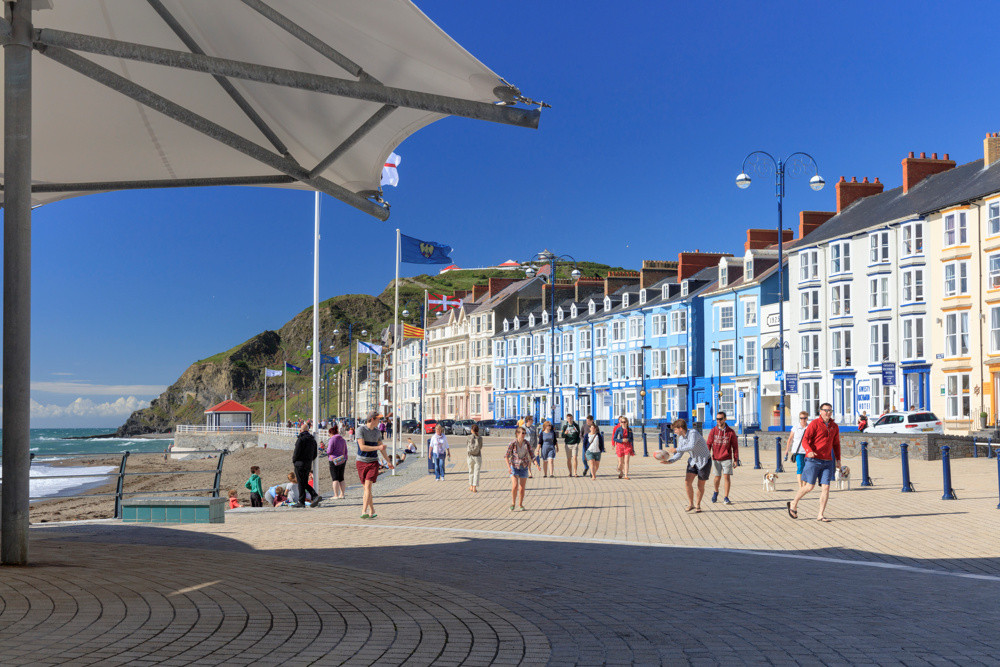 Promenade Panoramas
For a great view of the town, just as the Victorian and Edwardian health seekers did, climb Constitution Hill; or if you prefer, the Cliff Railway (opened in 1896, and until recently the longest ) ​provides a more leisurely alternative, as well as fantastic views. At the summit of Constitution Hill  on the sunniest of days, ask to visit the Victoria Camera Obscura where you can see a projection of a bird's eye view of the surrounding scenery.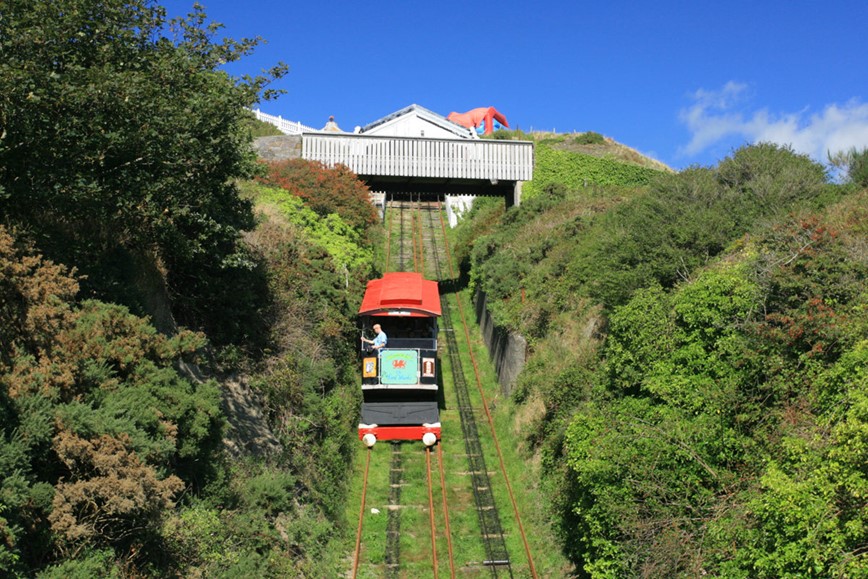 Aberystwyth is justifiably famous for its glorious sunsets, spectacular winter storms and starling murmurations. From autumn through to early spring, the birds swirl in harmony across the evening sky before coming into roost under the pier each night.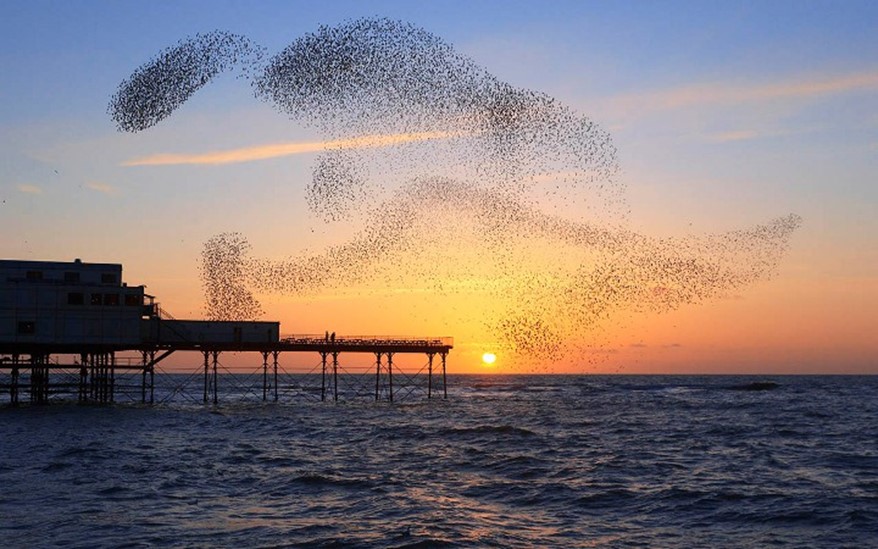 Aberystwyth - Celtic capital of culture
Overlooking Aberystwyth town is the imposing building that houses the National Library of Wales. It may have over five million books on its shelves, but it's nothing like an ordinary library - you can't even take out a borrowed book. It is much, much more.  It's the place to get an insight into Welsh culture through film, sound, art, maps and documents, and there are exhibitions, talks, concerts and behind the scenes guided tours. If you've got Welsh ancestry, you can trace your roots here too.

The National Library complex is home to the Centre for Advanced Welsh and Celtic Studies and the base of the Royal Commission on the Ancient and Historic Monuments of Wales. 
And they've got (one of) the best views in Aberystwyth!
Aberystwyth Arts Centre is a little bit further up Penglais Hill, on the University's main campus. The centre hosts world class performers and artists in its theatres, galleries and studios.  The Centre includes exhibition spaces, a theatre, cinema and concert hall as well as artists' studios, book and gift shops.  Despite lots going on, it is a friendly, relaxed place, and another of those Aberystwyth spots that has fantastic views - the sunsets are famous!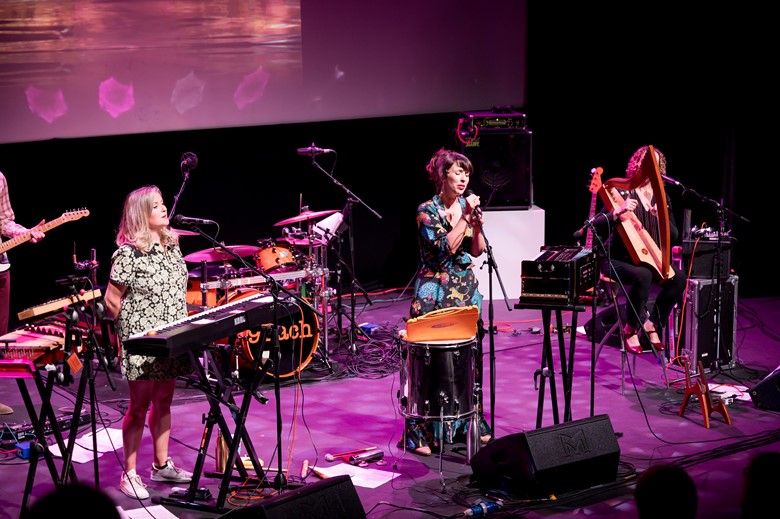 The Aberystwyth University School of Art, close to the centre of Aberystwyth town, has a collection of fine and decorative art from the 15th century to 21st century contemporary art, and has changing exhibitions from its collections as well as graduate shows. 
Aberystwyth - gateway to Ceredigion heritage
Ceredigion has a rich cultural and folkloric heritage. The Ceredigion Archives at Aberystwyth town library has a wealth of material about the county's great mansions and their estates such as Hafod, Nanteos and Trawsgoed, the county's pubs​ and 'ordinary' and extraordinary residents and visitors. Visit and pick up a copy of a 1930s guide to Ceredigion and see how little has changed!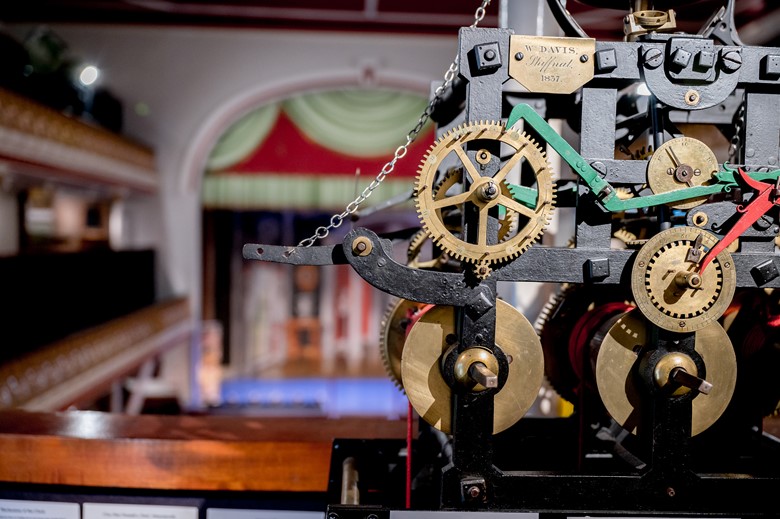 The nearby Ceredigion Museum and Tourist Information Centre is a great place to start your exploration of Ceredigion. As well a great collection of traditional Welsh furniture, costume and artefacts illustrating rural domestic and business life, the Museum has a great collection of art and a lively programme of activities and events including art and yoga classes, film screenings and music concerts as well as an eclectic range of exhibitions and related workshops, talks and art activity.